Today's article is a submission to appreciate the artist Monet:
The Impressionist Art Movement has churned out many artistic geniuses like Eduard Manet, Renoir, and the staggeringly famous Claude Oscar Monet. Monet has been a pivotal extension of Impressionism and is distinguished for his use of loose brushstrokes.
Most of his masterpieces were unexpected, unseen, and avant-garde compositions with an infusion of his unique viewpoint. Towards the maturity of his career, his artwork inched towards abstraction, leading him to be crowned a pivotal influence in modern art too.
Unlike his contemporaries, Monet tried to capture the fleeting character of nature with his vivaciously bold color palette. His most famous Impressionist artworks were garden landscapes, featuring dainty flowers, many of which we shall behold in the next section.
The Water Lily Pond aka The Japanese Bridge
Monet's 'The Water Lily Pond' has worldwide acclaim firstly for the observation with which it has been crafted. Secondly, the whirlwind of hues used in this, unaltered and straight from the tube, which by the way is a classic characteristic of Impressionism, never fails to amaze people.
The brilliant replication of the water lilies requires a precision that comes from working on the ground which comes from Monet's adoration for horticulture. The painting portrays his beloved pond which narrows down as you look further, striking use of perspective. If you look closely, you would feel many sensory effects being evoked in this masterpiece.
Moreover, he has taken Japanese sensibilities in this, featuring the bridge, and has stained the canvas with multifarious shades of luscious greens. His toying with light and reflection is extremely apparent with how wonderfully only could see the roots in the water. The natural foliage scene is accentuated with the careful placement of yellow and pink flowers, right in the middle to complete the scene.
The Walk Woman with A Parasol
'The Walk Woman With A Parasol' is an intriguing miscellany of all the beautiful nuances of Monet. The said woman positioned rightly in the center of the painting is Monet's adoptive child, Suzanne Hoschède. This was made at the starting of Monet's suburban life, away from the cities in his house in Giverny.
Here again, his exemplary knowledge of luscious greenery is abundantly evident as the woman is positioned in long-length shrubs. The interplay of light done by Monet is simply ethereal here, accomplished by infusing a lot of white light into the painting.
Shadow has also been made into play here by placing the woman opposite to the Sun, creating a contrast. The sway of wind is also beautifully portrayed with the swinging fabric of the woman and the slightly tilted parasol, a trademark of Parisian women. Her expression is painted sternly and intensely, indicative of Monet's close-knitted domestic life.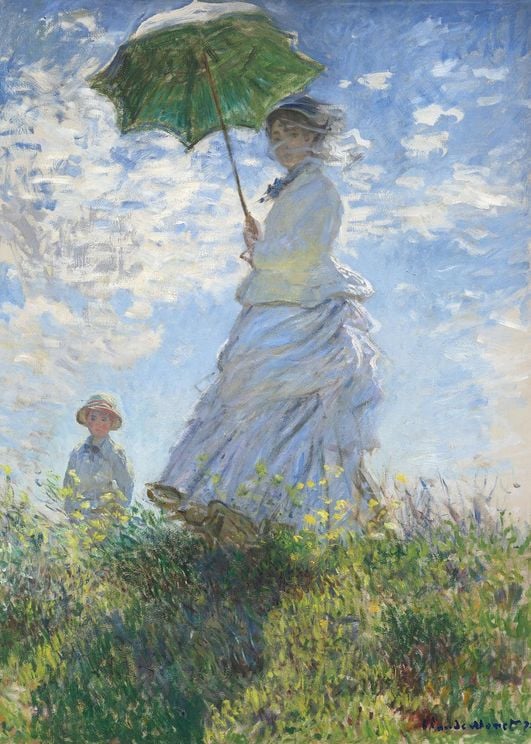 Irises In Monet's Garden
Monet's Garden at Giverny is most imbibed by him in his many masterpieces. His love for nature, especially for purple irises is at display here. A thick paste of color has been used in this, painted with loose brushstrokes to give an impression of merging sceneries.
It's been said that Monet has practiced painting his garden over hundreds of times which has got him to this level of accuracy and surreality. Lilac, purple and blue have been intermingled to create striking colors which look aesthetically pleasing to the onlooker.
The muddy path drawn in between portrays his excellent work with perspective. Behind the focal point of this masterpiece, you can see enormous trees with brown and green leaves intermingling together to create a beautiful effect.
Impressionism Sunrise
'Impressionism Sunrise' is a beautiful landscape featuring the harbour in France called as Le Havre. Monet's interplay with shadows is extremely evident here with the use of subtle grey and pitch black tints.
Monet had a habit and interest of capturing the fleeting element of nature and he did that brilliantly here. His unexpected and vivid use of colours captures the sunrise accurately with striking hues like yellow and orange merging into one another.
Monet's playing around with light is also visible here as the yellow sunlight from the sun permeates through on the water, making it sparkly as it reflects the light. Monet also places two small black figurines inside the boat which is a testament to how he like to paint outside.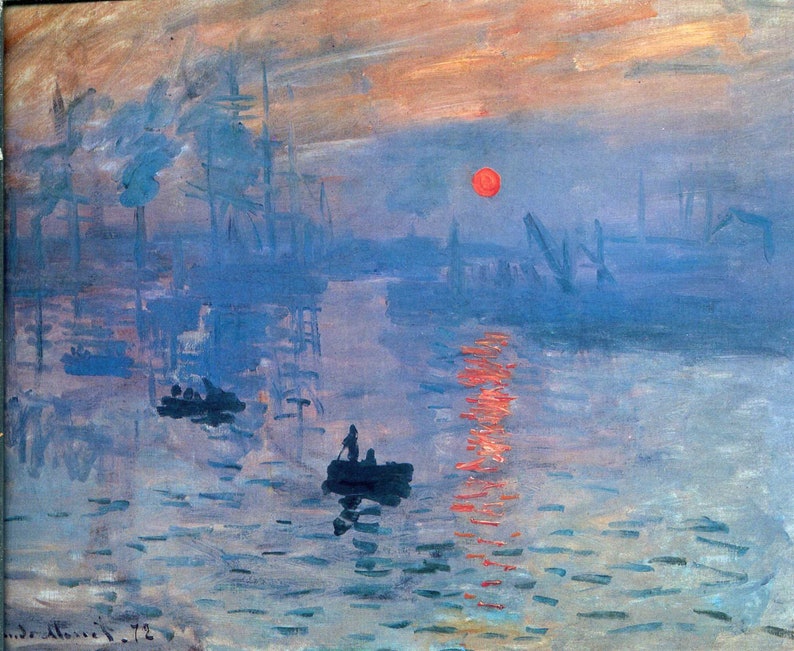 The Bottom Line
Monet was a trailblazing force in the arena of the Impressionism art movement influenced by his like-minded contemporaries like Auguste Renoir. His name is synonymous with impressionistic art, courtesy of his patent free brushstrokes and vivid hues splashed across the canvas.
Most of his artworks seem to document his domestic life in the Giverny House as well as his intensive knowledge of foliage, a direct recursion of his fascination with gardening. Capturing lush green shrubbery and vegetation alongside staining the canvas with thick and pasty slobs of paint remains his trademark which distinguishes the magnificence which you can witness here- https://www.1st-art-gallery.com/Claude-Oscar-Monet/Claude-Oscar-Monet-oil-paintings.html